They about their mission:
What we want
The zoo - a cultural institution in Zurich - acts as an ambassador between humans, animals and nature. We want to contribute to the sustainable continuity of biological diversity by addressing large parts of the population in an attractive and exciting way. We develop our activities based on an innovative and economical management and a sound, future-oriented, sustainable financing. In doing so we directly profit from the large public interest in our attractive zoo and capitalise on an ever tightening cooperation in the worldwide web of zoological gardens.
We assist and oversee programmes aimed at species conservation and habitat protection.
We arouse and foster the visitors' interest in our work (provide recreational area, inform, protect the environment, research) by making them partake actively in the world of the animals.
We convince the visitors with an active, curious-making communication.
We want to foster the interest of the public and the economy for the zoo and inspire our visitors to help realise our nature conservation objectives.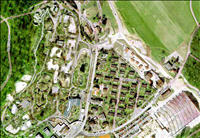 Tags:
zoo
,
zurich
,
animals
,
switzerland
,
sightseeing